discover our asian flavours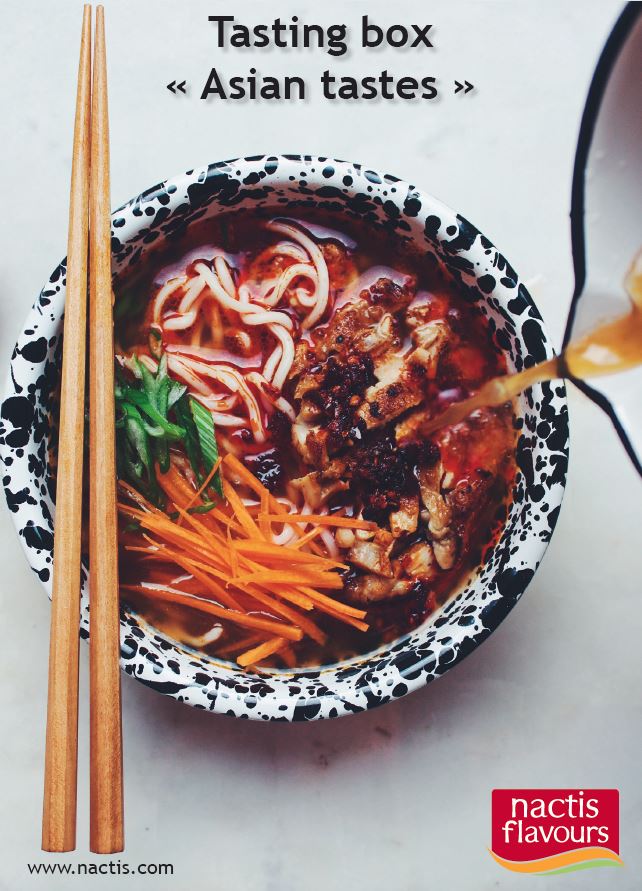 NACTIS FLAVOURS reveals its first tasting box on Asian trend. On this special occasion, we developed ten flavours, including sweet and savoury flavours that will take you on a journey to exotic places !
Taste is essential to innovate in the food industry as consumers constantly want to try and discover new and exciting flavours. In this context, exotic tastes and particularly Asian ones are trendy up and we observe more and more product launches with an asian flavour claim.
To meet this growing demand, NACTIS FLAVOURS created a new flavours' range dedicated to Asian tastes. Our creations gather specific and staple tastes of Asian cuisine: from Japan to Indonesia through China, Thaïland and even Korea. To create these products, we drew our inspiration from traditional meals as well as spices, plants, fruits and sauces of this region.
Various applications :
This collection has been developed to be used in a wide range of applications: meat and fish, ready meals, sauces, soups and condiments, cookies, drinks, dairy products, snacks, fruits and vegetables.
Discover the ten flavours available in our Tasting Box "Asian tastes":

In addition to this selection, you can also discover other Asian notes: natural flavour Nuoc-mam taste, natural basil Yuzu-Basil taste, oyster flavour, natural flavour fried rice taste and natural flavour wasabi taste.
---
Ask for your tasting session now !
Please contact your local representative to learn more about our new range.